Classrooms at the Denver Art Museum campus buzzed as summer camp students bustled about, huddled around tablets, researching sources of inspiration, and peppering their teacher with questions as they worked.
Amid the hum, Harper White, 10, sat at a workspace sketching an intricate design of swirls and flowers while Harrison Ivanoff, 10, was fast at work molding blue clay into a sculpture, not sure yet what the creation would become. As Harrison's imagination let loose, Harper contemplated turning the pen and paper sketch into something else entirely — a non-fungible token.
Behind the young artists a large projector screen displayed a group of NFTs created by the class of 9- to 11-year-olds, already posted to a virtual gallery and waiting for bids. From 9 a.m. until 3:30 p.m. the week of July 11, the class of nearly 20 children came to the Denver Art Museum to learn the art of making — and selling — NFTs.
The Denver Art Museum's youth camps have been running since the 1990s but shut down in 2017 while the museum undertook a renovation of the campus' Martin Building. The plan was to relaunch the camp program sooner, but the COVID-19 pandemic hit and kept the return at bay until this year. 
Nearly five years later, the camps are in full swing and looking to teach children art skills across mediums, including preparing them for an increasingly digital world. 
This summer's camp offered two courses dubbed Digital Design, where students not only learned about the Metaverse but the burgeoning art of NFTs. The first session was in June and the second in July, both for ages 9 to 11, and both filled to capacity. 
NFTs have gained more recognition in recent years, particularly within the digital art world. They are a digital image or asset, typically one-of-a-kind and often bought and sold using cryptocurrency.  
The Digital Design course's lead instructor was local artist and digital art aficionado Rob Gray, also one of the forces behind the Five Points digital art gallery, IRL. While making their first NFT, Gray told the class to create something that represented their personality.
Harper dreamed up a collection of doodles portraying tacos, burgers and sushi, then brought them to life with bold colors and animal faces. Gray converted the drawing into a digital image, and it became the class' first official NFT.
"I like ramen and cats, so that was the first one I drew," Harper said.
Harrison created the class' last contribution to the gallery, making splatter paint art that Gray also converted into a digital image.
Gray taught the students NFT basics, which Harrison and Harper explain with ease. NFT stands for non-fungible token, Harrison said. An artist can make an NFT from anything, either starting with a tangible piece of art then converting it to digital, or working exclusively with digital tools. Designs can be simple or complex, Harper said. The most alluring part to Harrison is that NFTs could generate funds to use in video games.
"It's like cryptocurrency," Harrison said.
Gray hung the students' pieces in his virtual gallery. People across the globe can go into the gallery and see the children's NFTs. They can verify the pieces are original works from students at the Denver Art Museum learning the trade, and bid to buy one.
"It might not be the most aesthetically pleasing but it has a story behind it," Gray said. "It's been really inspirational to see the kids realize they can be the stars. You don't have to create the Mona Lisa."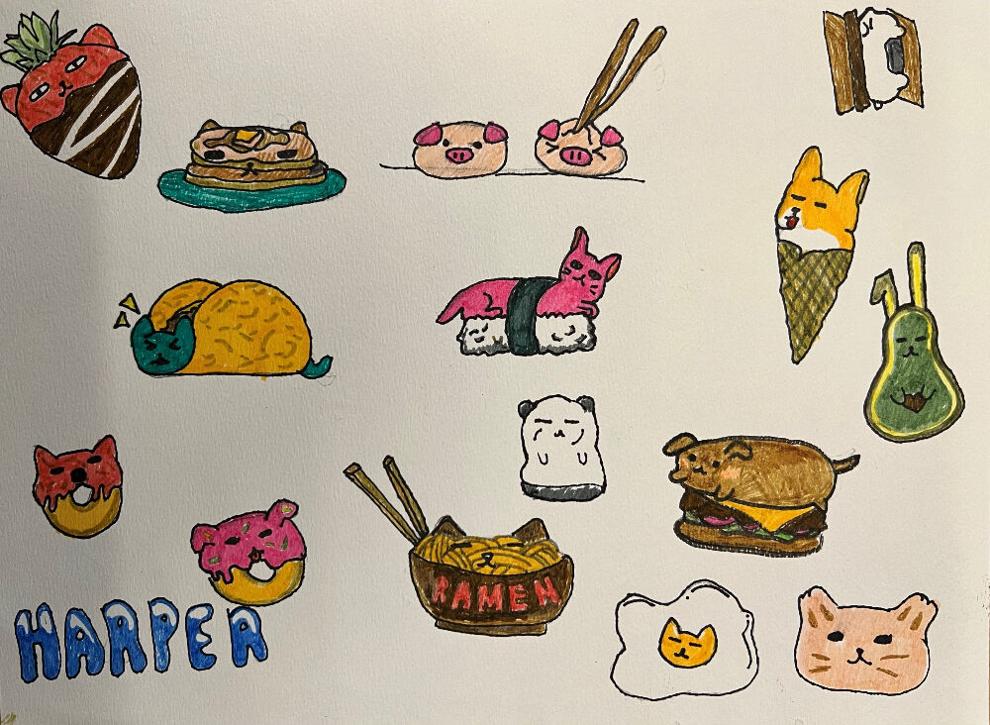 At least one of the students' NFTs from the June camp had received a bid. Gray transferred the ownership of the students' NFTs to their parents, who will manage the children's virtual wallets. Gray also gave parents an explainer on how NFTs work, how they can manage them after the course, and is available to consult them if they ever have questions, he said. 
Now is the age to start introducing digital art to students, Gray said. At 8 years old, a child can understand the concept. That's the age by which most are playing games on their parents' phones, even buying "digital assets," such as a new leash in their Paw Patrol game.
They can also get ahead in the field if they understand it now, he said. 
"We are still in the dial-up stage of all this," he said.
At only a few years old, the world of NFTs is too young for there to be veteran experts in the space, he said. Anyone who spent a couple years learning the ins and outs of NFTs would be in the upper echelons of people who know the digital art sphere well. 
The newness of NFTs also makes their future uncertain, but Gray expects they will be around for years to come even if they don't have widespread popularity. People still play Mario Kart, he said, and an NFT might still hold value in 10 or 15 years even if only to a niche crowd. His advice for families is to embrace digital art.
"Lean into the technology. Even if parents don't understand it," he said. 
The Denver Art Museum's youth programs coordinator Komal Dhruv said she wanted to incorporate various kinds of literacy into this year's camp course offerings. The courses include topics people might expect at an art camp — such as art fundamentals, or sketching and drawing — while striving to look toward what skills children will need in the future.
No matter which course students enroll in, from art literature to digital designs, the camps are also a way of introducing children to an art museum's collections, Dhruv said. The DAM asks instructors to take campers into the galleries. 
Teachers incorporate gallery visits into their lesson plans and tailor the tours to fit in with the subject they teach students. She wants students like those in the Digital Design course to still see the museum's collections as a primary source of inspiration and education.
Children are going to hear about bitcoin, cryptocurrency and NFTs. She wants them to be able to learn about the Metaverse and new technology in a safe space. NFTs might be new, but summer camp is a familiar and fun venue to introduce the subject, she said. 
"I think tech literacy is just an undeniable reality, that it's a skill that kids need and it doesn't have to only happen in schools," Dhruv said.